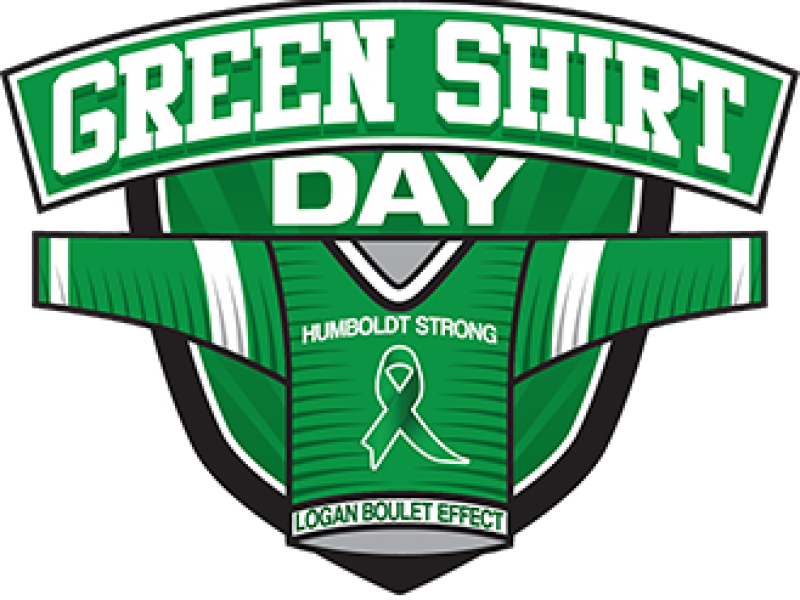 The TAA and many of our members, their families, and as many people as we can muster, will be gathering at Confederation Park at 2:30 pm on Sunday April 7th to help create an online flash mob at 3pm. At 3pm Smitty Kingston will sing his wonderful song "Stick out by the Door". Let's see how many Kingstonians we can get for a picture! Show your support for this amazing cause.

You are encouraged to wear a green shirt and bring a hockey stick to support this wonderful cause. If you would rather wear a hockey jersey, that is great too, we have Green Shirt Day stickers for you.

#LoganBouletEffect #HumboldtStrong
What an amazing Event! A beautiful day that brought many Kingstonians in Green Shirts down to Confederation Park. Check the group picture to see the turnout. Smitty Kingston did a wonderful rendition of "Stick out by the door" that had the crowd feeling the #LoganBouletEffect. Our Vice-President, Shillane Labbett, talked about our group and what we do, with a little about her story, with our Kingston Chapter Chairperson, Theresa Whalen-Witjes, MCing the whole thing.

The link on this event page is a link to a video of the entire event.

Thanks to everyone who came out and supporting this great cause!
Back to Previous Page